Should you wash chicken before cooking? This question is a debatable topic that has been discussed for many years. Some argue that washing chicken before cooking reduces the risks of consuming raw poultry. In contrast, others argue against it as it could easily and quickly spread bacteria and increase contamination.
Myth or not! If you can take the necessary precautions and handle the extra steps required to decontaminate your worktop, then yes, you can wash or rinse chicken before marinating or cooking it.
Why do black people wash chicken
Well, I want to believe not only black people wash their chicken before they marinate or cook it. However, no poultry or meat, generally, gets cooked in my mother's kitchen without first washing or cleaning it in cold water.
Although a personal preference, I strongly recommend washing poultry thoroughly before cooking, regardless of its packaging, as it is essential for food safety. A while ago, I witnessed an eye-opening television program that revealed through a secret camera how workers in a factory handled raw chicken before it they packed it.
Some of the chicken dropped many times on the floor, and picked up by the workers, and packed as if nothing happened. So yes, with that picture at the back of my head, I mostly wash my meat before I cook it.
So yes, some people (black or not) wash their poultry because it is a cultural or traditional practice or just for good measure. However, you should know that cooking the meat on high heat and to the correct internal temperature will kill all the harmful bacteria you are worried about.
Failing to exercise caution when washing raw meat can result in the spread of bacteria throughout the kitchen and surfaces.
That said, it's up to you if you want to wash your chicken before cooking. As long as you're taking the proper safety measures, go ahead and do what you think is best.
How to properly clean chicken
Before we proceed, this process is for you if you are
Can't stand unwanted feathers, fat, and debris on chicken
Please note that washing your chicken before you cook does not guarantee 100% bacteria-free meat. What is important is that the chicken is fresh and not spoilt before you cook it. Always cook the chicken to an internal temperature of 165F/74C. This washing process is a preference thing.
What you will need
Bowl
Salt
White vinegar or lemon or lime juice
Chopping board: Ideally, you should have one that you only use for raw meat. This is to reduce the chance of cross-contamination.
The process of washing chicken is as follows
Clear your sink. There shouldn't be any plates or cutlery in and on your sink when you are about to clean your poultry.
Gather your cleaning ingredients and bowls. Because you will be handling raw meat, you want to avoid cross-contamination as much as possible. Let all that you need be within your arm's reach and measure them out too. That way, you wouldn't be touching too many things.
Place the chicken in a bowl, cover it with cold water, and add white vinegar, lime juice, or lemon juice to the water. Leave to soak for about 5 minutes, then take the chicken one at a time and scrub to remove any unwanted fat, membrane, feather, or debris from the chicken.
Repeat this process until all the chicken pieces are cleaned to your satisfaction.
After that, rinse the chicken with clean cold water. Place on the chopping board and pat dry with a kitchen paper towel.
That's it. You are done with cleaning your chicken. Now you can proceed to marinate or cook the chicken as you please.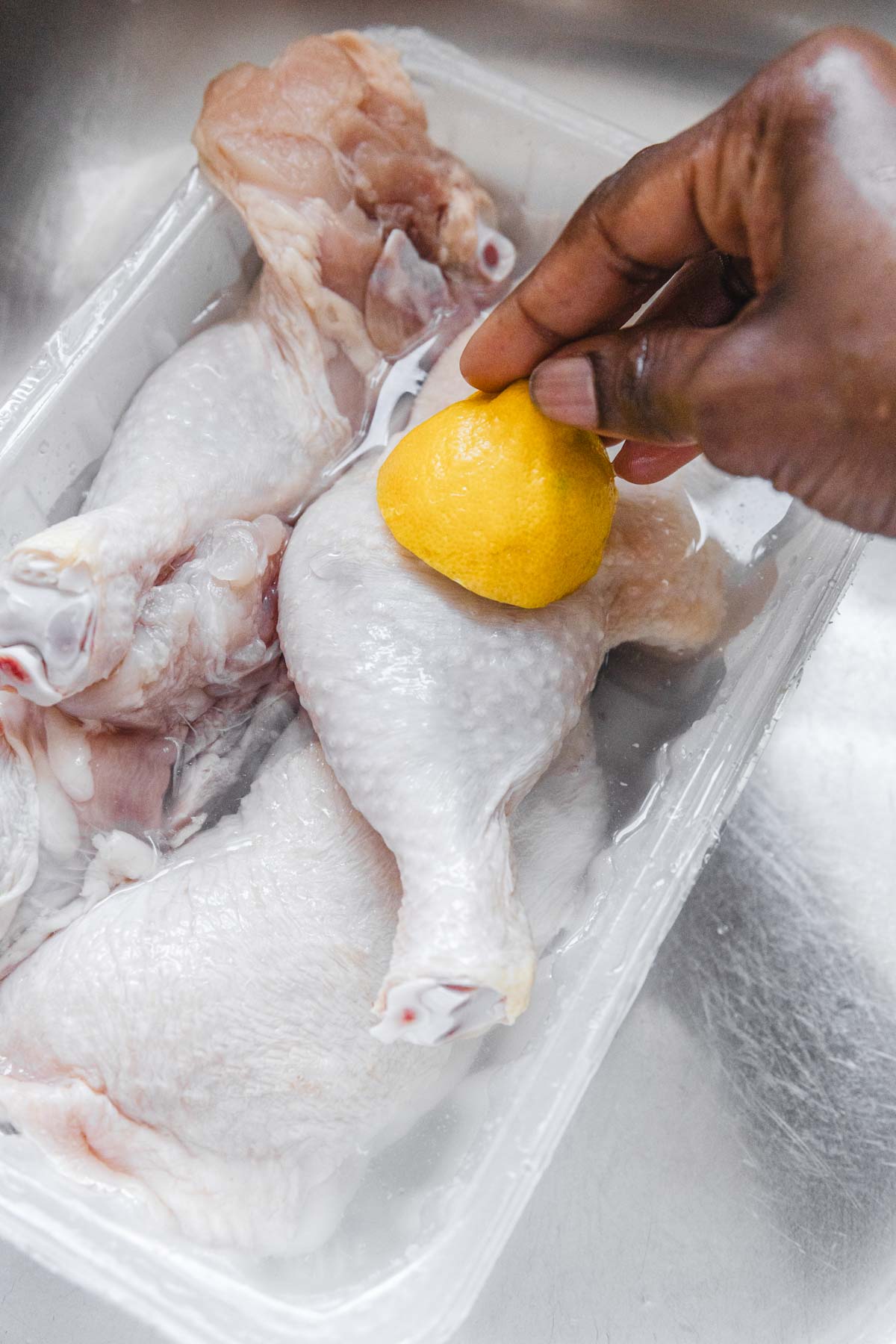 Clean and decontaminate the work surface or countertops
The next significant bit to know is to clean the sink, the work surface, the sink, and the tap. Believe it or not, while you are busy washing that chicken, you are also spreading harmful bacteria from the splashes of water around your kitchen.
So it would be best if you didn't leave it like that. After washing and cleaning the chicken, all surfaces should be wiped down with a bleach solution or a disinfectant spray.
Wiping down these surfaces will help to reduce the risk of foodborne illnesses from bacteria such as E.coli and salmonella.
What does USDA think
The US Department of Agriculture (USDA) recommends washing chicken before cooking because it could cause the spread of bacteria to you and your kitchen surfaces. They advise that if you still feel the need to wash your poultry, then make sure to do so safely, just as I mentioned above, and immediately clean and sanitize the sink and countertops after washing.
Final Thoughts
To wash or not to wash poultry before cleaning is a personal preference. Weigh the pros and cons and choose what works for you. If you would do it, it's essential to take the extra steps required to decontaminate your worktop and kitchen.
Remember always to observe basic food safety hygiene to reduce the risk of contamination; wash your hands properly before and after handling raw poultry. Use a separate chopping board for raw poultry. You must ensure that you clean all equipment used with warm soapy water or a disinfectant solution.
Always cook your chicken to a safe internal temperature of 165F/74C before you consume it to prevent any foodborne illnesses.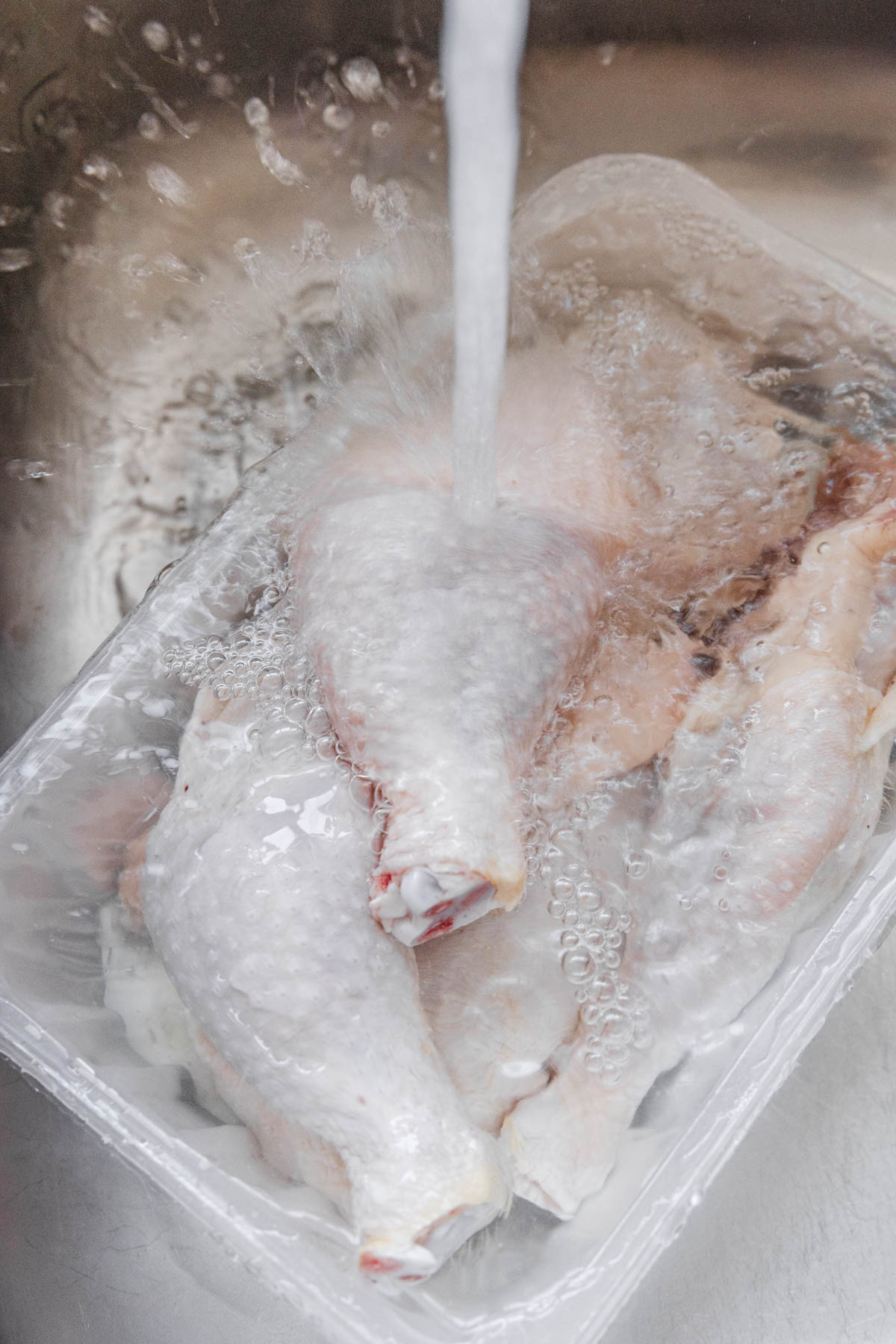 More chickien how-tos
Can you marinate chicken for 2 days
I hope you find this chicken cleaning tips and simple techniques helpful. As always, if you made this method, I would love to hear from you! Kindly rate the recipe 5 star and leave me feedback in the comment section below. Tag me @cheapchickenrecipes on Instagram and save it away to your Pinterest or make it on Tiktok. Please subscribe to the blog if you haven't for free new recipes in your inbox every week.